Enhance your face for a new look
Thinking about enhancing your face for a new look? Whether you are considering a facelift, eyelid surgery, or a reconstructive procedure, Dr. Fitzpatrick's skills and experience enables him to accomplish your aesthetic goals safely and effectively right here at Littleton Healthcare. Our team of experts provides options and information for you to choose confidently in your treatment. Surgical and Non-Surgical procedures are available.
Laser Treatments
Laser surgery is used, but not limited to, remove wrinkles, sunspots, tattoos, birthmarks, diseased tissues, hair, reduce the appearance of skin wrinkles, or treat bleeding blood vessels. The laser is a light beam that can be focused on a very small area.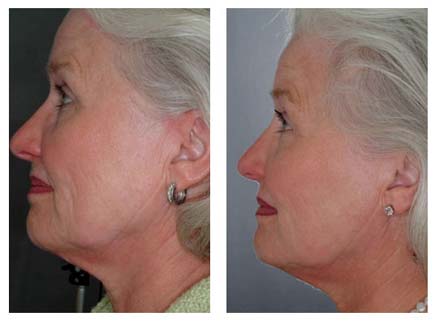 Laser collagen rejuvenation
Laser collagen rejuvenation is an anti-aging treatment that firms and tightens the skin. As we age, our body makes less collagen and we notice skin wrinkles, lines, and sagging. This technique softens fine lines and wrinkles. Using a gentle laser, it stimulates the body to make collagen. Collagen firms up our skin.
To learn more about laser surgery, visit U.S. National Library of Medicine
We would be happy to answer your questions and/or set up a consultation for you.
Call (603) 444-2450 or use our contact form.